Hope you guys don't don't mind me making another thread in this section.
I went to the local indoor range today and put 150 rounds of FMJ through the new P238. I also put through 14 rounds of speer gold dot (my carry ammo) to make sure it went through without issue.
At about round 100, I had my first and only failure. It was with WWB ammo and was a failure to eject. I've never seen a FTE quite like this as the round did a 180 and got stuck perfectly between the slide and the barrel. I'm not sure what to think of it so was hoping for opinions (picture below).
I do really like this pistol, it was actually a joy to shoot. Other 380s and light 9mms have really tore up my hand causing webbing in my fingers to rip and bleed and whatnot. This one was really comfortable. The only gripe I had was the trigger digging into my finger. I really planned on firing 200 rounds through it but after 150 my trigger finger had enough abuse. Is there an aftermarket trigger that is less sharp that won't dig into you so much? How hard is it to replace the trigger? Should a gunsmith do it if I've never done more than field strip a pistol to clean it?
I was quite impressed with the accuracy. At 15 yards I was all over the place but every round landed on the silhouette and most were in the 8-10 point range. At 7 yards I think I did pretty well. In the silhouette picture below, the head shots were with the Speer ammo and the body shots were all with the WWB FMJ. I think that was about 100 rounds in the chest and most went through the center so that is really nice for such a small pistol
When I got home I noticed the finish on the barrel was in bad shape. It didn't look too good from when I bought it but I didn't realize how easy the finish rubbed off. I googled it and saw a lot of people removed the bad finish so I followed suit. I took some fine sandpaper and went over the exterior of the barrel and evened out the finish. I took some steel wool to it to try and get the scratches out but there are still a bit visible. What could I use to buff the scratches out to give it a nicer look? Also what can I apply to the barrel to keep it from corroding/rusting/whatever? I didn't know Sig was a company that would put such a weak finish on the barrel so that was quite the disappointment.
And one last question - Now that the barrel has a steel appearance, the gun looks a bit off to me with black hardware. Can I order replacement parts direct from Sig or are there aftermarket parts I can put in to also have a stainless steel appearance? Such as the slide stop and safety and whatnot? I would hope swapping the safety out is an easy task?
Thanks guys for any feedback. I'm pretty excited about this pistol. It's a lot nicer than my Glocks and I look forward to daily carrying it and spending a few hours a month with it at the range. It actually makes me want to get a Sig 1911 but it doesn't look like they make one in 9mm
I can't afford to shoot .45 so I guess I'll have to cross my fingers that the 9mm version makes it one day.
100 rounds of WWB FMJ through body, 14 rounds of Speer through head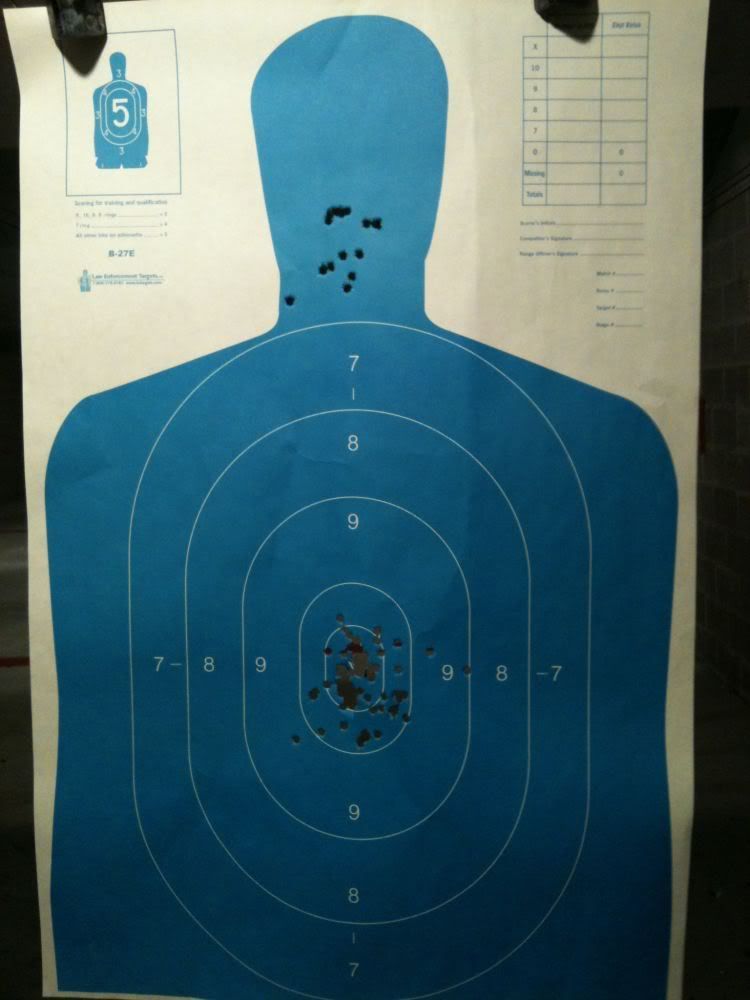 The only failure I had
Another angle of the failure
The finish on the barrel before I messed with it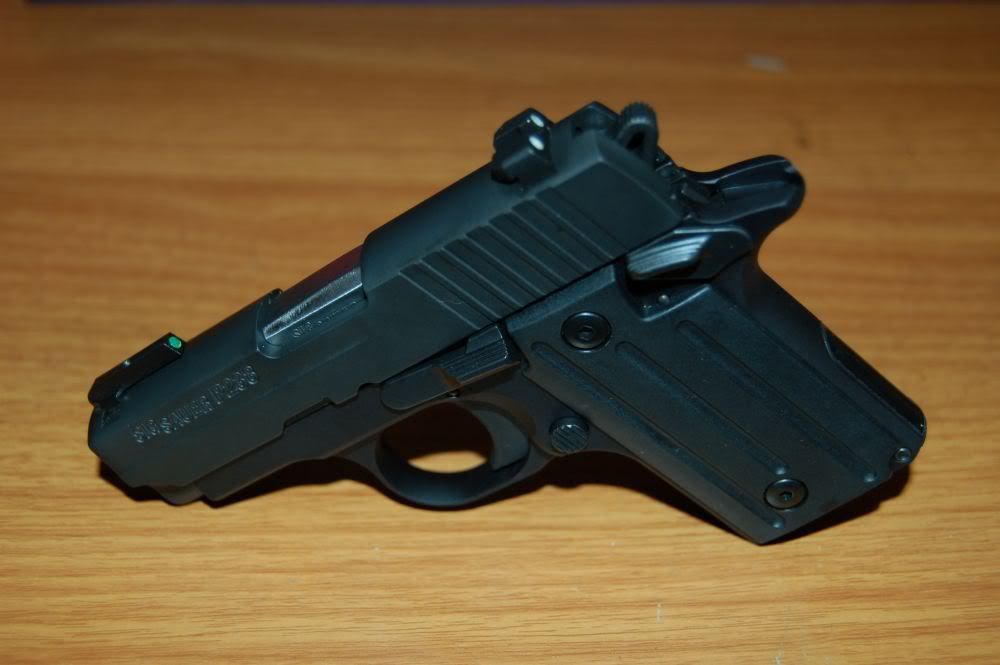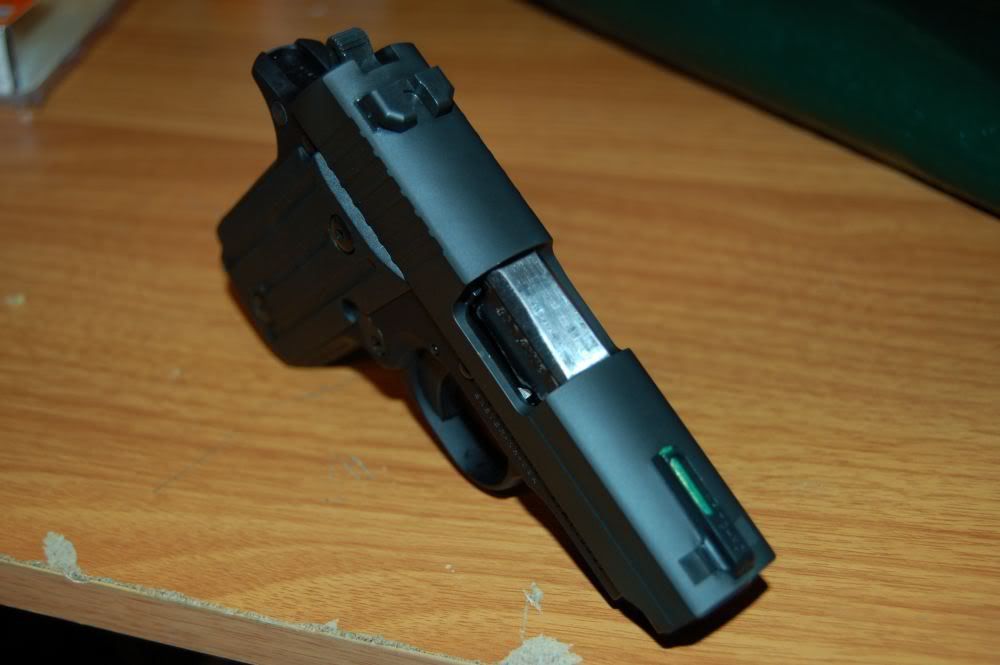 The barrel itself before I messed with it
The barrel after I messed with it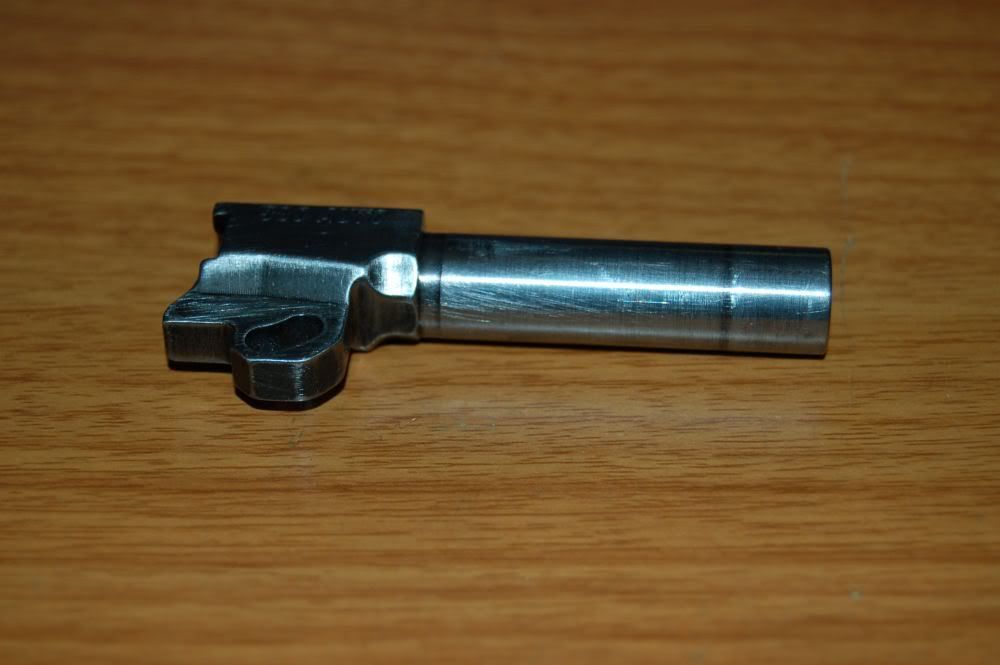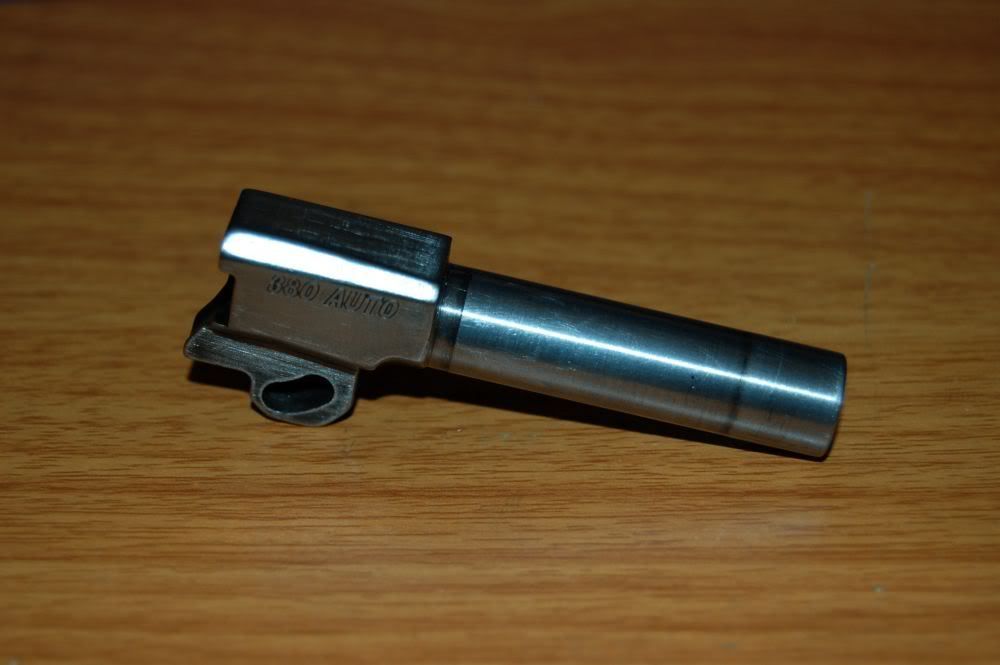 The gun with the now sanded barrel