So I recently acquired two P320's. One is a Compact 9mm, the other is a full size 9mm.
The full size 9mm was brand new old stock and unfired. Everything was perfect until I bought a small, compact grip module. When I placed the FCU into the frame, and seated it fully against the back of the grip, something was dragging on the trigger bar and causing the gun to have a monstrously slow and sluggish reset. I initially thought that perhaps it was the trigger bar dragging on the frame. Nope, that wasn't it. Then I thought maybe the grip was too narrow for the FCU? That didn't make any sense either.
When I picked up the Compact 9mm, I immediately swapped in another small grip module, and I had absolutely no issues with reset, or feeling like the trigger bar was dragging on something. Odd. I swapped in the problematic FCU, and there was the problem again. So I knew it wasn't the frame's fault, there was something going on with the FCU.
I said screw it, and ended up destroying one frame getting to the root of the problem. I ended up dremeling away a tiny bit of the frame where it contacts the trigger bar spring; specifically the loops of the trigger bar spring, where it hangs under the FCU. This is what I found:
As you can see here, the vertical leg of the trigger bar spring sits right at the rear corner of the trigger bar.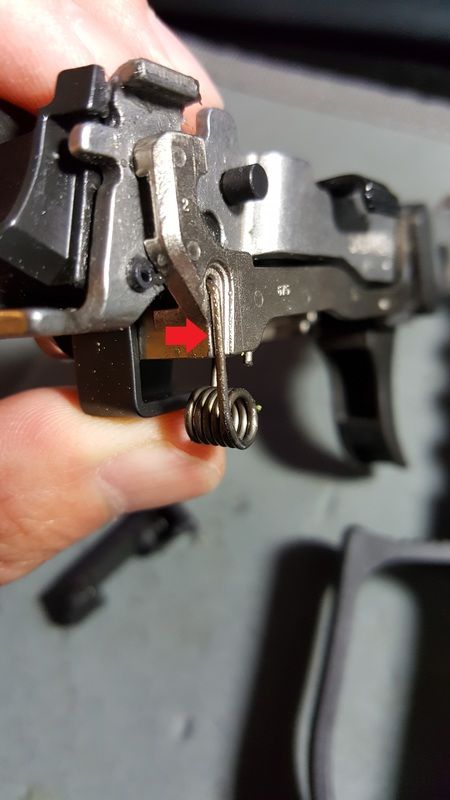 When the trigger is pulled all the way to the rear, that vertical leg of the spring gets caught behind the trigger bar, causing the trigger to either crawl back forwards, or completely hang up as a dead trigger, like so: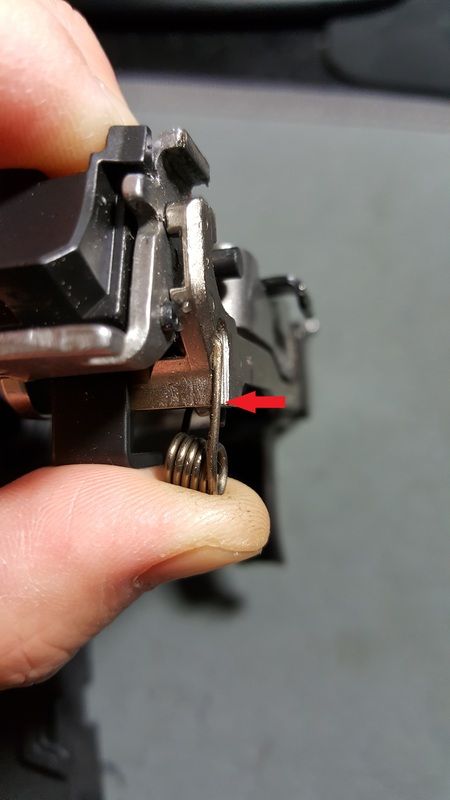 I believe this is the root of all the complaints regarding P320's failing to reset, getting a dead trigger, or having a sluggish reset. I am positive this is the issue, because when I looked at my later production date P320, this is what I see: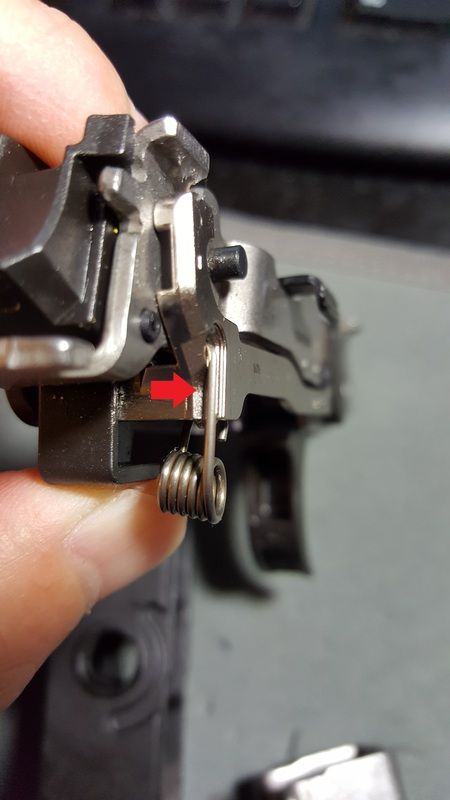 Notice that the back corner/edge of the trigger bar is beveled, thus preventing the vertical leg of the trigger spring from ever catching behind it. I don't know why Sig didn't point this out (as far as I can tell) that this was a design change along with all the other updates (smaller slide stop, Adverse trigger, flat takedown lever, etc.).
If you're having problems with your P320 trigger, especially when going from a large or medium grip module down to a small, take a look at your trigger bar and spring.